IGOT7, fandom of GOT7, expressed their demands to JYP Entertainment by trending hashtags on twitter and by having a LED truck campaign.
Last June 18-21, IGOT7's conducted an online survey and received more than 11,000 responses from 50 different countries. Based on their survey, the concern "Safety and security for GOT7 members, including legal action taken against sasaengs/butsunis and updates on previous legal actions taken." needs the highest priority.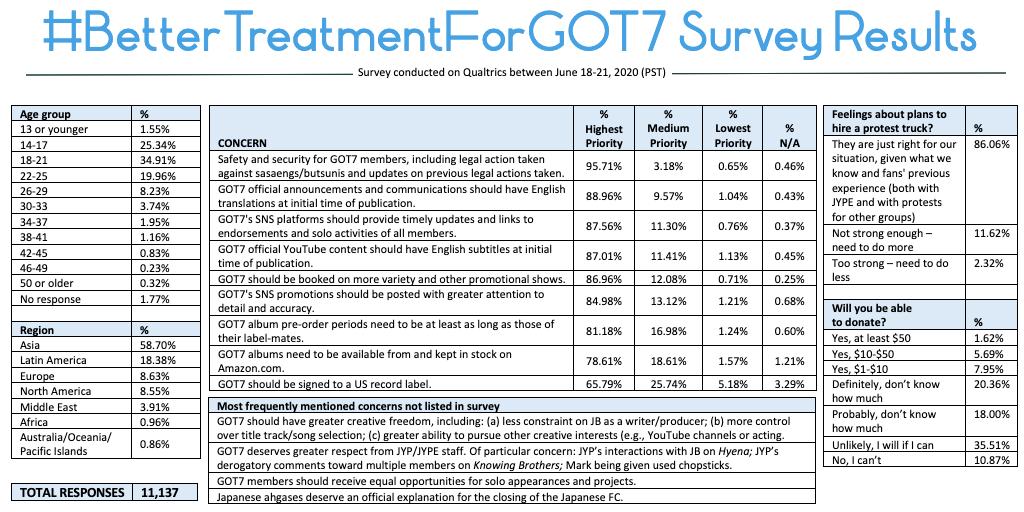 On July 6, they began running the truck protest that displays their top concerns and demands to JYP Entertainment.
Here are their concerns and demands as displayed on the LED truck:
"Even GOT7 is commercially successful with many international fans, GOT7 is NOT promoted like a commercially successful senior group with many international fans."
"Division 2 of JYP Entertainment must improve."
"You [JYP Entertainment] are responsible for protecting GOT7 from sasaengs by announcing current status of legal actions/blacklists."
"You [JYP Entertainment] are responsible for maintaining and expanding the international fanbase by providing translations/subtitles for all GOT7 content."
"You [JYP Entertainment] are responsible for accurately announcing all group and solo member activities as soon as they are confirmed."
"You [JYP Entertainment] are responsible for increasing GOT7's public visibility by booking all seven members on more variety and television shows."
"You [JYP Entertainment] are responsible for giving fans adequate time to support album sales with longer pre-order periods."
"You [JYP Entertainment] are responsible for increasing international sales by distributing and restocking all albums at international retailers like AMAZON, TARGET, and WALMART."
"You [JYP Entertainment] are responsible for expanding GOT7's international appeal and recognition by signing GOT7 to a US music label."
Furthermore, in relation to the safety and security of GOT7, the fans "respectfully instruct JYP Entertainment to provide timely and detailed updates on the legal actions taken against sasaengs and to increase proactive measures to ensure the safety and security of GOT7." (See their statement here)
In addition, fans stated that JYP Entertainment is failing to keep the members of GOT7 safe by not providing timely updates on legal consequences for sasaengs. The members of GOT7 have encountered problems with sasaengs since 2016, that includes invasion of privacy, threats to physical safety and emotional health.
Debuted in 2014, GOT7 a multinational team composed of Mark, JB, Jinyoung, Jackson, Youngjae, Bambam and Yugyeom already marked their place in the K-Pop scene as they are 1st K-POP group to chart on artist100, 1st K-POP group to get #1 on Billboard WWalbums with their debut, 1st JYP group to have sold-out arena tour in US, the only JYP group to won in EMAs and got a nomination in BMAs. (Tweet)
"We have become angry, confused, and frustrated. GOT7 is an internationally popular and commercially successful group, yet we do not see GOT7 receiving the same managerial and promotional considerations given to other JYP Nation groups." – OT7AHGA on YouTube.
Moreover, dedicated fans of GOT7 have been continuously voicing out their demands and concerns for the past four years.
According to them, they have sent mass e-mails, and trended hashtags on Twitter, but they have never received a direct response from JYP Entertainment.
In support to their protest, hashtags: #JYPE_ManageGOT7Properly #FairTreatmentforGot7 #ProperPromotionForGOT7 trended worldwide with the hope that JYP Entertainment will address and review the fans' demands and concerns.
"We seek to maintain a mutually beneficial relationship with JYP Entertainment. Therefore, we respectfully instruct JYP Entertainment to review our statement and to make changes accordingly." – IGOT7
STREAM GOT7 "NOT BY THE MOON" M/V:
Follow our official SNS:
Facebook.com/OneSeoulPH
Twitter.com/OneSeoulPH
Instagram.com/OneSeoulPH
E-Mail: oneseoul.ph@gmail.com