"WE ARE ONE!"
HUGE respect and appreciation to our heroes, our frontliners. Being on the front line is more than just a job. The health workers are fighting against the COVID-19 pandemic. It requires lots of determination, patience, dedication, and selflessness to serve the people.
Not all of us can sacrifice sleep, time, and even offering your own life knowing you will be at risk to the virus. They also have family, friends who love them, and of course they also have dreams for their life.
Knowing all the things that we are facing today, it's very heartwarming to see fandoms that aims to help our frontliners. Proving that they are more than just supporting their idols, they definitely have a purpose.
On March 17, EXO Voting Team PH (@PHIXOVotingTeam), Philippine fanbase of EXO, launched a crowdfunding with the aim to help the hospitals and the frontliners who are currently in the battle against the pandemic instead of doing an anniversary project.
As of writing, the fanbase was able to raise received 56, 602.89 Php. For the first part of the donation, they donated 10 sets of Personal Protective Equipment (PPEs) and 10 Food and Care package.
Yesterday, the fanbase delivered 100 food packs to the Philippine General Hostpital (PGH).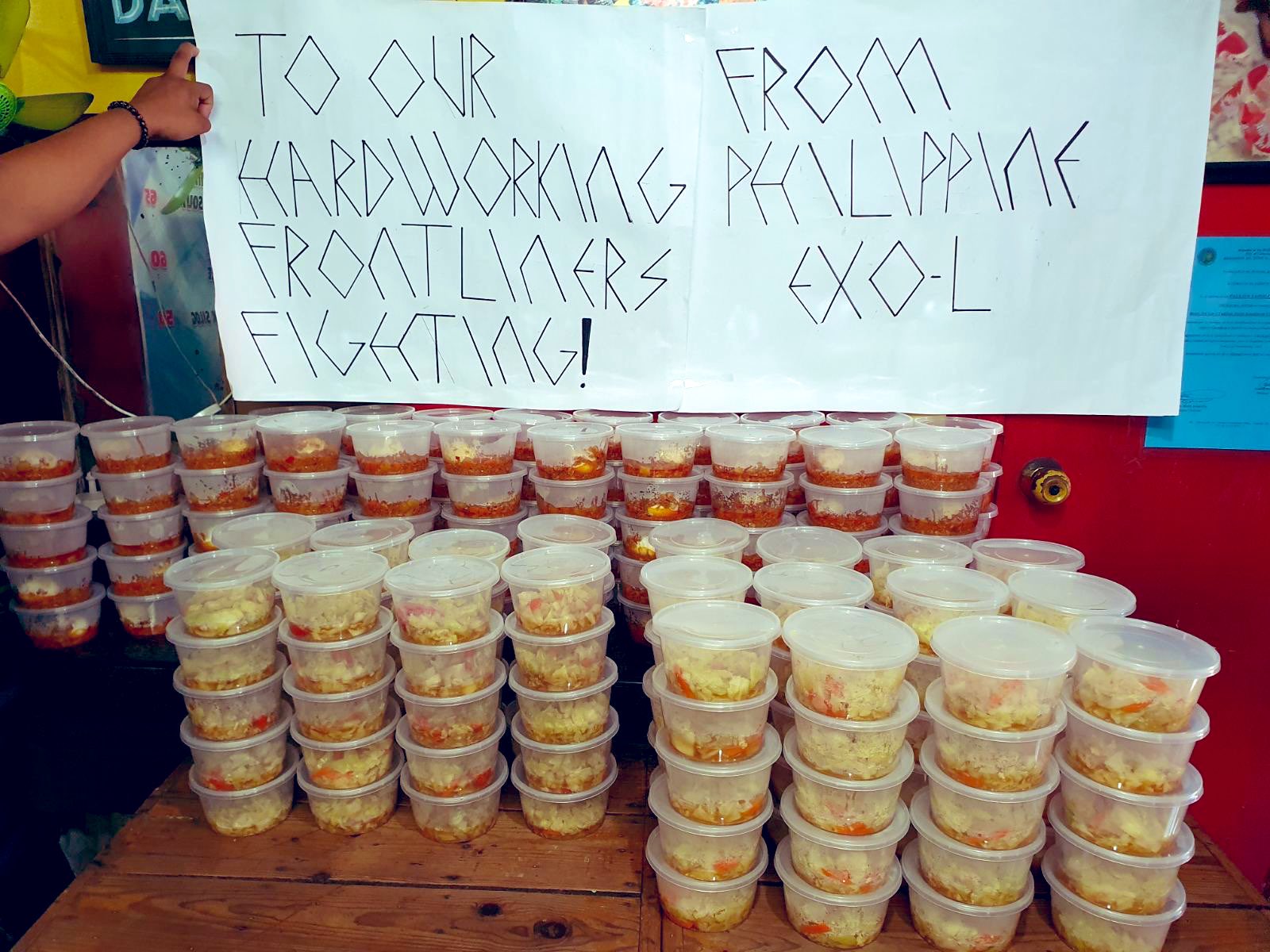 And it does not stop there, they also sent 1000 pieces of Caps and 500 pairs of gloves to Jose R. Reyes Memorial Medical Center.
Moreover, EXO Voting Team PH partnered with Ahgase Philippines (@got7pinoy), Philippine fanbase of GOT7 to raise funds for Powered Air-Purifying Respirators to be donated at PGH. Their goal is to raise 160,000 Php.
If you wish to donate, contact them: @PHIXOVotingTeam and @Got7Pinoy on Twitter.
EXO-Ls and Ahgases, EXO and GOT7 must be very proud.
We at One Seoul like to express our gratefulness to all of our frontliners as well as to those people who are helping our modern day heroes. Salamat, Kamsahamnida, Thank You.